Holiday Link Up Alert! I'm lazy and Holly is doing a link up. It's Christmas themed. Also, Ashton has enticed me to share my favorite things. Enjoy and link up!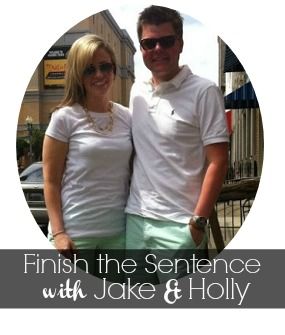 My favorite Christmas was last year. My first Christmas home after living in California for 5 years...and my first Christmas spent with Donny. We were engaged and I was showing him off!
The worst Christmas I had was my last Christmas in California. Stress. Unhappiness. Depression. Not good. (You'll get the full story soon...) Also, any Christmas where I wasn't in Texas with family.


That one gift that made me scratch my head and say, "Hmmmm" was any time that I have gotten some random fragrance or lotion. Makes me question my bathing habits...
One year I didn't even have a tree. Make that more than one year. That's just pitiful and unacceptable in my book.
I think the worst gift to give is lotion. Seriously. I'll buy that junk myself...
At Christmastime I typically go a bit crazy with all the Christmasy things I want to do. I want my life to be a Christmas cliche for that one month. I want to be a Hallmark movie. I want my house to look like a snow globe. I'm an idealist at Christmastime.
If I could change one thing about the Holiday season, it would last longer and people would enjoy it more.
It is so hard to buy for my step dad. He is the man who wants something and buys it. His response is always nothing. Every single time.
My favorite Christmas tradition is waking up on Christmas Eve and trying to be the first to say, "Christmas Eve Gift" to my family. Christmas Eve breakfast with my mom's side of the family. Singing and playing music with everyone.
Festive Favorites!
Favorite Christmas song.Traditional: "Oh, Holy Night" - the Mariah Carey version. I will SANG that in my car, y'all! That entire album is just good stuff. I also love "Santa Claus Is Back In Town" by Elvis and "White Christmas" by Bing Crosby. That version always makes me think of Home Alone.
Christmas song you can't stand. "Wonderful Christmas Time" by Paul McCartney. It makes me want to stab my ears with broken Christmas ornaments.
Favorite holiday movie(s). Elf. Christmas Vacation. Home Alone. Does Gremlins count?
Real or artificial tree? If real trees weren't so high-maintenance, I would love them. But since they are, artificial & pre-lit all the way!
White or colored lights? White. Colored lights make me think of a Joe Diffie music video. I'm aware that they do get a bad rep because of trailer parks and rednecks. I'm sure they can be tastefully done.
All matching ornaments or more random personal ornaments? Both. I have matching ornaments with a few random ones thrown in here and there. We will always have a place for the Christmas pickle.
Favorite ornament. The aforementioned Christmas pickle. It's just awesome.
Angel or star tree-topper? STAR!
Does Santa wrap presents or leave them unwrapped? Oh, Santa wraps. Unless he's lazy or the gifts too big.
Favorite childhood memory. I don't have just one. I always loved decorating the house with my Mom on the day after Thanksgiving.
Coffee, hot chocolate, or eggnog? Coffee is always gonna be there, but I do love me some Southern Comfort eggnog!!
Christmas morning at home or do you travel? Christmas morning at my mom's with the whole family. I love it!
Traditional holiday meal or something unconventional? We're usually pretty traditional.
Personalized photo Christmas cards, store bought cards, e-cards, or "ain't nobody got time for that"? This year, I sent cards with a Christmas letter...because I'm all super crafty like that.
Now you! Link up and let us know all YOUR Christmas secrets!